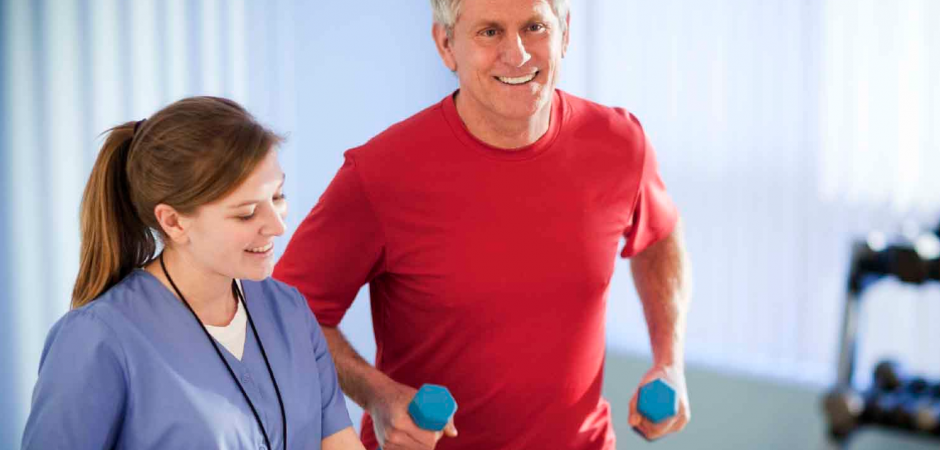 The outpatient services at the UT Health East Texas Rehabilitation Center are designed to help restore and maintain independence by continuing therapy treatment, and ongoing care after a patient returns home.
Licensed physical therapists, occupational therapists, and speech therapists evaluate and assess the needs/deficits of each patient and provide an individualized treatment plan to improve your quality of life and functional ability.
Outpatient rehabilitation locations
City
Address
Phone number
Tyler
701 Olympic Plaza Circle
Tyler, TX 75701
903-596-3161
North Campus Tyler
11937 U.S. Hwy. 271
Tyler, TX 75708
903-877-7293
Athens
6444 S. Palestine
Athens, TX 75751
903-677-8424
Carthage

409 W. Cottage Road
Carthage, TX 75633

903-690-0021
Cedar Creek Lake
100 Municipal
Gun Barrel City, TX 75156
903-713-1555
Chandler
123 Hwy. 31 E.
Chandler, TX 75758
903-849-4404
Henderson
701 N. High
Henderson, TX 75652
903-655-3681
Hide-A-Way Lake
16911 Village Lake Dr.
Lindale, TX 75771
903-882-7055
Jacksonville
414 S. Main
Jacksonville, TX 75766
903-541-5520
Lake Palestine
18118 FM 344
Flint, TX 75762
903-590-5967
Mineola
1616 N. Pacific
Mineola, TX 75773
903-569-0842
Pittsburg
2801 U.S. Hwy. 271 N.
Pittsburg, TX 75686
903-946-5466
Rusk
1325 N. Dickinson
Rusk, TX 75785
903-683-3555
Whitehouse
601 Hwy. 110 North, Ste. N
Whitehouse, TX 75791
903-596-3981
Outpatient services:
Physical therapy
Physical therapist will develop patients' strength, mobility and endurance as well as relieve pain through exercise, and assist with home evaluations, equipment and post-discharge needs.
Occupational therapy
Occupational therapist will assist patients in caring for themselves and regaining daily living skills as well as helping with home evaluations, equipment and post-discharge needs.
Speech therapy
Speech therapist will help patients overcome difficulties in communicating, thinking/thought organization and swallowing problems.
Cardiopulmonary rehab
Cardiac rehabilitation helps patients improve their life after being diagnosed with a heart condition through exercise and education. Pulmonary rehabilitation helps the patient control their breathing by gaining skills that help manage their lung condition.
Parkinson's program
Rehabilitation for Parkinson's disease consists of promoting functional mobility, minimizing potential secondary impairments and progression of the disease as well as safety education. We also offer a community wellness program specifically for Parkinson's patients.
Lymphedema management
The lymphedema program assists patients in managing a chronic and progressive condition through proper compression treatment, appropriate lymphatic massage and long-term self maintenance education.
Balance and vestibular program
The balance and vestibular program offers assessment of patients with dizziness, disequilibrium, vertigo or associated symptoms. A program is developed to assist patients in symptom reduction and management based on their needs and available rehabilitation techniques.
Aquatics therapy
Rehabilitation utilizes aquatic therapy for progressive strengthening, pain reduction, chronic pain management and reduced gravity therapeutic progression leading to increased movement and function.
Orthotic therapy
Rehabilitation for occupational therapy consists of a variety of treatments for orthopedic disabilities, hand injuries, occupational injuries, neurological dysfunction, arthritic conditions and cognitive deficits. Occupational therapy also specializes in fabrication and monitoring of casting or splinting for joint deformity prevention and post-surgical progression.
Total joint replacement therapy
UT Health East Texas rehabilitation offers skilled therapy for individuals after total joint surgeries to improve motion, strength, ambulation and function. These programs are guided by appropriate physician protocols and paced appropriately for individual needs and healing phases.
Custom upper extremity and hand splinting
VitalStim (need trademark TM)
Functional capacity evaluations
Functional capacity evaluations consist of an evaluation performed by a licensed physical therapist which documents the client's ability to perform work from a physical, medical, behavioral and ergonomic perspective.
Work conditioning
Work Conditioning is a highly structured, goal oriented program of progressive physical activities designed to enhance the work capacity of an injured worker in order to return to the work force.